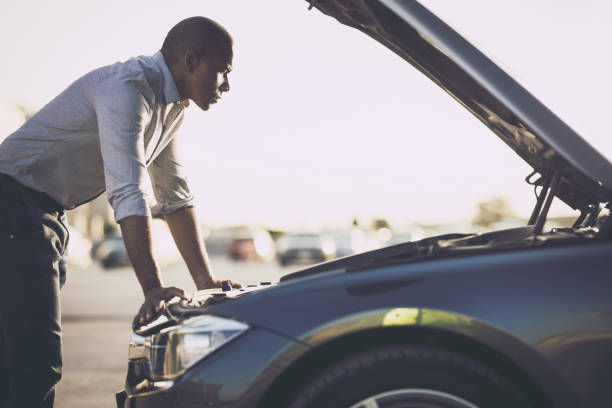 Lagos state is the commercial capital of Nigeria, with a total population of about 15 million people half of who are on the move from day to day. A study in 2016 showed that Lagos roads played host to over 5 million cars and 200,000 commercial vehicles. More so in 2017, Lagos state recorded an average of 227 vehicles per kilometer of the road (when the national average stands at 11 vehicles per kilometer) on a daily basis.
With this kind of data on the large number of vehicles that ply the road daily, it is not surprising that Lagos also happens to be the traffic capital of the country as the roads are barely large enough (even though they are of decent standard) to cater for these many vehicles. Having to deal with broken down vehicle on Lagos roads presents a lot of difficulties. From struggling to get your vehicle off the road with most likely a raging traffic behind you to hoping you can find a mechanic close by to help get your vehicle back on the go.
Often times when vehicles run out of gas, the drivers just pump back gas in and keep going not knowing that there are several damaging effects that this can have. This is because in most cases the car keeps going but some problems develop over time and repetition. Let's take a look at what happens when your car runs out of fuel and its effects.
Effects of your Car Running out of Fuel
1. The spark plugs get clogged
When your vehicle runs out of gas, the plug could get clogged with debris and other contaminants that make their way from the gas tank to the engine. The fuel filter usually prevents this from happening, but in the case of running out of fuel then the debris can be sucked up through the fuel filter by damaging it.
2. The fuel pump gets over stressed
Usually, one of the very first components of your vehicle that could get damaged as a result of running out of fuel is your fuel pump. When there is no fuel, you just end up sending more pressure to the fuel pump and this could damage it.
3. Cause the vehicle to stall
Because of the usual rush in Lagos, when you run out of fuel presumably on the road and your vehicle suddenly stops, you leave yourself open to the possibility of accidents. Situations like this should be highly prevented against because you never can tell where and when it could occur.
4. Make it hard to brake
It is pertinent to note that running out of fuel does not necessarily have anything to do with the braking system. However, it has been sometimes reported that when vehicles run out of gas, the brakes feel stiffer and heavier and sometimes they push down.
5. Cause issues to the steering system
Just like the hard brakes, you might also notice that the steering wheel gets a little harder, and it might take you to use both hands so you can turn the vehicle to get out of traffic so you can pull over. Again, the steering wheel doesn't necessarily get power from the engine. Still, when the vehicle shuts down, you'll notice that many components that are powering the steering wheel will not work, and therefore, the steering wheel will feel much harder. 
Habits to incorporate when your car runs out of Fuel
Having been acquainted with things that might happen when you do run out of fuel, you should as well be prepared for these situations. The following are a list of things you should do when faced with this scenario, especially on Lagos roads.
Stay Calm
Pull Over and stop
Use the hazard lights
Reach out to a mechanic
Conclusion
The best solution for ensuring that you never run out of fuel while in the road is to make sure to keep an eye on your fuel tank, ensure to always check the fuel gauge every time you get into the vehicle. If you happen to have been driving the vehicle for a while then you would sense when it is time to have a re-fuel.
Like earlier noted, running out of fuel could damage some components of your car. If you are wondering what to do after you notice a part of your car has been damaged due to a fuel runout, contact us at Carpartsnow. We stack original replacement parts for any damaged part of your car. Visit our website at carpartsnow.ng or call us on 08128530450. You can also visit our physical address at 9. Olowu street Ikeja, Lagos.